Building a Better Grid Through Innovation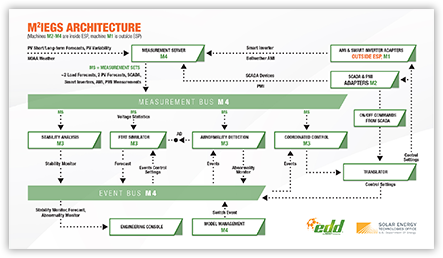 EDD, with a history of providing electric utilities the tools to adapt to a changing energy landscape, is leading a project with the U.S. Department of Energy that will result in a more stable U.S. electrical grid now and into the future.
The three-year project is named the Faster-than-Real-Time Simulation with Demonstration for Resilient Distributed Energy Resource Integration. The targeted outcome—development of a system for better detection of abnormalities, such as cyberattacks, and coordinate voltage control and grid stability in real time.
Organizations partnering with EDD on the project include PEPCO Holdings, Clean Power Research, Florida State University, Smart Electric Power Alliance, University of Delaware, Dominion Voltage Inc., and KITU Systems.
See the below materials for more in-depth project information. Also, be sure to bookmark this page and follow NISC on Facebook, Twitter, LinkedIn and Instagram to stay updated on the latest project news.
EDD to lead $4.9MM U.S. DOE Project for Resilient DER Integration (Nov. 21, 2019)
PROJECT PROFILE: Electrical Distribution Design (ASSIST) (Jan. 3, 2020)
Using Modeling and Simulation to Support Grid Resiliency (Aug. 24, 2020)
EDD Building a Better Grid Through Innovation (Dec. 17, 2020)
Computation Model Playing Critical Role in Better Grid Management (Apr. 26, 2021)
Developing, Testing, and Implementing T&D Analysis Software for the Future Grid (March 9, 2023)  
NISC's engineering and operations solutions help electrical utilities collect, share and transform data into powerful, business-building information. To learn more about how NISC and its subsidiaries can help utilities stay at the forefront of technology in a rapidly evolving industry, please visit www.nisc.coop.